Skip Main Content
Experienced Spine Specialist in Pittsburgh, PA
Your spine provides integral support and structure for your body. The spine itself is made up of a series of connected smaller bones called vertebrae, which stack up on top of each other and provide protection for the spinal cord. Like any other part of the body, the spine is vulnerable to injury and can be especially painful if left untreated. Injuries like these can even lead to long-term difficulties that have a severely negative impact on your overall quality of life, impairing your ability to walk and perform daily tasks due to back pain or discomfort.
Whether you are dealing with spinal arthritis, a herniated disk, or some other type of spinal injury or condition, the Pittsburgh spine surgeons and specialists at Greater Pittsburgh Orthopaedic Associates are passionate about helping you live pain free. Our team will work directly with you to develop a treatment plan that meets your unique goals. 
Combining cutting-edge technology and a minimally-invasive approach, the experts at GPOA have what it takes to help you eliminate back pain and live your life more freely. If you're looking for a compassionate, experienced spine specialist to help you recover from an injury or condition, contact us today to set up a consultation and learn more about your treatment options.
Don't wait to begin treating your spinal condition.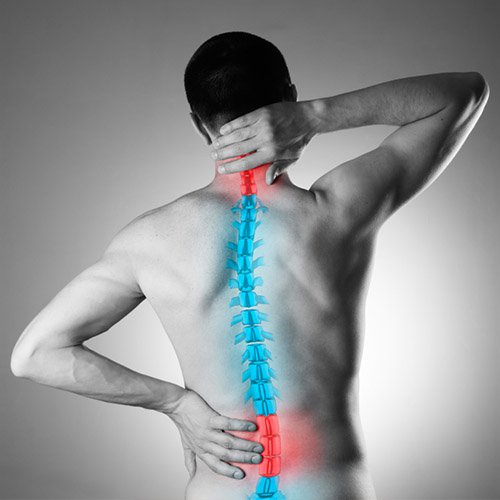 Providers
Your Trusted Back Specialist in Pittsburgh, PA
Deciding on back surgery is no small choice to make: surgery can end up prolonging your amount of downtime, coming at an additional cost, and causing a considerable amount of pain as you navigate your recovery. At Greater Pittsburgh Orthopaedic Associates, we pride ourselves on a minimally-invasive approach that is designed to avoid prescribing patients with unnecessary surgical procedures. 
Not all spine conditions require surgery, so our spine surgeons can provide a range of surgical and non-surgical solutions depending on your injury. They can treat a wide range of disorders impacting the following areas of the spine:
The upper part of the spine (the neck), known as the cervical spine
The middle back, called the thoracic spine
The lower back, known as the lumbar spine
Within these areas of the spine, your vertebrae, connective tissue, or nerves may encounter a variety of problems that require solutions only an expert can diagnose. Our back surgeons in Pittsburgh, PA are able to evaluate a wide range of spinal conditions, then consult with you on which treatment will be most applicable to your particular situation. 
Don't wait to address your spinal condition and begin living pain-free. Help is available from the experts at Greater Pittsburgh Orthopaedic Associates.
Greater Pittsburgh's Top Back Doctors
The team at Greater Pittsburgh Orthopaedic Associates understands that every patient is an individual. From your symptoms and condition to your comfort level and goals for recovery, you are a completely unique case from any other patient, even one who has received the same diagnosis as you. That's why our back surgeons in Pittsburgh take a compassionate, patient-first approach to care in which we work with you to develop a treatment plan that meets all your individual needs and goals.
Alongside our minimally-invasive approach, we encourage all of our top back surgeons in Pittsburgh, PA to always be on the lookout for new, cutting-edge treatment and surgical techniques that can improve our patients' outcomes. While we place great value on our tradition of excellence at GPOA, we are also passionate about progress in medicine, and we are committed to offering our patients the best options that the field of spinal surgery has to offer.
The expert spine surgeons at GPOA have a wealth of experience in the field of spine surgery and conditions related to the spine. We are your partners in spine care, and we want to help you with the best treatment plan for your needs. If you're ready to begin your journey toward a pain-free life, contact us today and schedule an initial consultation!
Frequently Asked Questions
Which conditions affect the spine?
A range of disorders could impact your cervical, thoracic, or lumbar spine. Some of the most commonly reported conditions include:
A herniated disk occurs when the connective tissue between your vertebrae is damaged, normally due to an impact or injury to the spine.
Stenosis is when the openings within the vertebrae or spinal cord start to narrow and provide less space for the nerves.
Vertebral compression fracture (VCF) is generally more common within aging populations as the bones weaken due to osteoporosis. It occurs when one of your vertebrae collapses, which can cause severe pain, more commonly in the middle back.
Arthritis of the spine could lead to the conditions mentioned above as the condition weakens the bones and the spine. 
Why do I experience pain as a result of my spinal condition?
All of the aforementioned spinal conditions can put a great deal of pressure on your nerves. When severe, they can even begin to exact pressure on your spinal cord itself. Pain is caused by pressure being put on the nerves. Cervical disorders may lead to pain in your arms, whereas thoracic and lumbar disorders tend to affect the torso and legs. Cervical conditions can also cause pain in the rest of the body.
What types of spine surgery are available at GPOA? 
If your spine specialist does determine that surgery is the best avenue for care, we'll work with you to determine the best procedure to help you find relief. Some of the most common procedures we perform at GPOA include:
Microdiscectomy, for herniated discs
Spinal fusion, for chronic pain relief, loose vertebra and more
Artificial disc replacement, for replacing a damaged disc
Vertebroplasty, to repair a fractured vertebra
Foraminotomy, for reliving a compressed nerve in the spine
Laminectomy, to address chronic back pain
To learn more about our spinal surgery procedures, including spinal arthritis surgery, schedule an appointment with one of our Pittsburgh spine surgeons today.
Do I have to get surgery for my spinal injury?
Not necessarily. Not all spine conditions require surgery, and the team at GPOA takes a minimally-invasive approach to avoid prescribing any unnecessary invasive procedures. Our spine surgeons can provide a range of surgical and non-surgical solutions depending on your injury. If your GPOA spine specialist determines that your condition does not require surgery, we may discuss non-invasive options with you, such as therapeutic massage or restorative exercises as part of a physical therapy plan.